News
Introducing Pario's New Large Loss Electrical Team!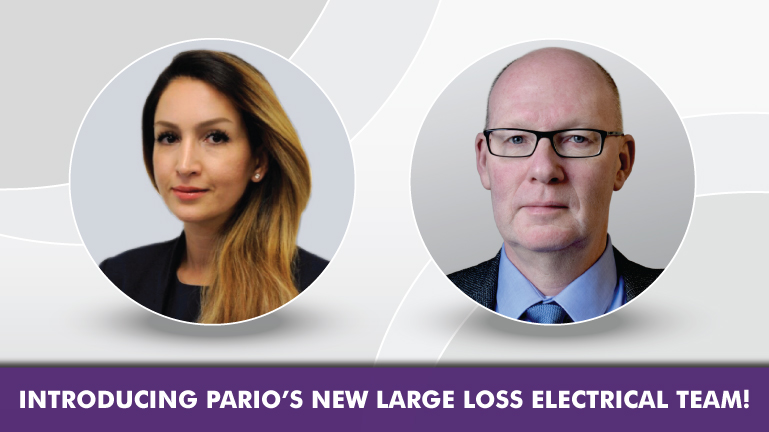 The event of a large-scale electrical loss can have implications to a company, an industry, or an entire region. That's why being able to quickly investigate with precision, is essential. Pario Engineering and Environmental Sciences (Pario) is excited to announce the launch of its new large loss electrical engineering team.
Bringing together two seasoned Pario experts from across Canada, this new team is led by Andy Brown, Eur. Ing., C. Eng., P. Eng., SMIEEE from Western Canada, and Tara Kazerouni, P. Eng., from Eastern Canada. As a result of this change, Andy has advanced to a new role as Chief High Voltage Forensic Engineer, shifting his focus from a regional to a national level. Together, Andy and Tara hold over 45 years of experience in electrical engineering, consulting, and forensic investigations.
With Andy's industrial and high voltage experience, gained within the power generation and consulting industries, the team will continue to support large electrical loss investigation and litigation associated with both insured and self-insured losses, which primarily includes:
Power generation and utilities, including wind, solar, conventional coal/gas and nuclear;
Transmission;
Distribution;
Industrial power supplies; and
Large commercial power losses.
Through the combined efforts of two highly accomplished Pario experts supported by industry-leading mechanical and electrical engineers, the team will focus on providing investigation of large and complex electrical losses on a national scale. Furthermore, this new electrical team supports clients in loss remediation by reviewing optimal and cost-effective remedial engineering options to repair/replace damaged equipment. By providing cost-effective solutions and consultation, clients can trust that their sites will return to operation as fast as possible while reducing losses.
For more information on Pario's electrical services and a free initial consultation regarding your file, please contact Andy by email at andy.brown@pario.ca or Tara at taraneh.kazerouni@pario.ca.